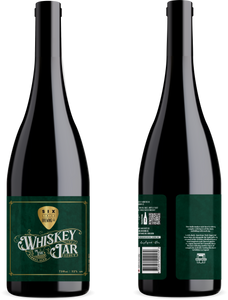 12% ABV
A barrel aged, American-Style Imperial Stout. Conditioned on a single batch whiskey, distilled from a stout inspired wash. This beer is a "Boilermaker" in a glass. Rich and complex with layers of toffee, caramel and oak. 
Whiskey in a jar
Oh boy. This is pretty good
A deliciously punchy beer
This delivers on so many levels. A rich dark beer with strong notes of whisky makes it a first rate beer from an exciting local brewery.
A Surprise
I have to admit, I was slightly skeptical when this showed up on the doorstep. I generally find Imperial Stouts to be far too big, bitter or dry.
The Whisky In A Jar however, has a smooth mouthfeel, zing on the front of the tongue, chocolaty back end, warming in the belly and is by far the best Imperial Stout I have ever had. In fact, it is one of the best stouts of any variety I have had. Big fan and glad I found it on a cool, crisp night after a long day on the cruiser.
Cheers!
FOM
Whiskey in the barrel
Definite and lovely mouth feel of imperial stout, with a lingering taste of the cognac barrel long on the tongue.
A sensation
Just a fantastic drop, smooth and warming. Sublime!