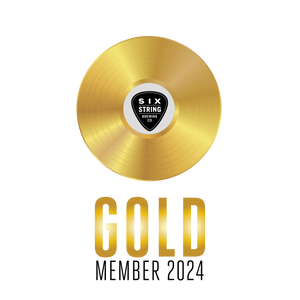 SIX STRING GOLD MEMBERSHIP
$35 Per Month charged monthly (inc Shipping)
$385 One off payment (save $35)
4 Pack of limited release 375ml Cans or
1x 750ml Bottle shipped monthly in the first week of the month

Six String Members 2024 Merch Pack Inc:
  2024 Members Patch (Value $10)
Six String Branded Rastal Luttich Goblet Glass (Value $20)Available exclusively for 2024 Members 
Six String Embroidered Cap (value $30)
10% discount on all Six String Products online and at the Tap room
Monthly Newsletter with Backstage insights into what's happening at Six String
Monthly Perks including discounts on different products each month
First access to limited release brews
2 Entries each month to our Monthly Members Only Giveaway
TERMS

12 months/Monthly – 12 month period billed monthly at $35. Includes merch pack and all packing/delivery costs. 6 month minimum terms, after the first 6 months packs can be rescheduled or memberships paused or cancelled at any time, based on your needs.
Payments are billed monthly by direct debit on the first of each month. First payment will be taken at the time of signing up and subsequent payments coming out on the first of the month following sign up. Should the member sign up in the first week of the month (21 days from the end of the month) the current members pack will be sent. Any sign up after this will be sent the pack on the 1st of the following month. Payments will reflect this.  
12 months/prepaid - maximum total cost $385 inc GST Billed as a one-off payment at the time of purchase. Includes merch pack and all packing/delivery costs. 
Beer releases are the first Friday of the month, and packs are sent within the first week of the month.
Value packed
Great value for money. I love the surprise at the start of the month and I do feel like the team at six strings treat you like a propper VIP! Love it!
Never miss out on a seasonal!
Love that I am guaranteed a 4pk of whatever seasonal is coming out that month. And another good excuse to drop into the brewery on the way home from work :)
Don't stuff around, get the membership!
Been on the VIP program for a few months and really enjoying the mix of speciality releases and core range. Top notch!
Great Craft Beers
The Six Strings VIP Membership is excellent, you get a new great craft beer each month, and great proices on the Core Beer range.
The staff are really friendly,a nd so helpful.
Terrific Variety
Have just joined this year, but have tried some cracking beers, that I may not have otherwise got around to trying, considering they have awesome regular ones.