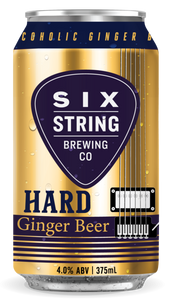 The Six String Ginger Beer has been amped up from pop to heavy rock as a 4% abv Hard Ginger Beer. Brewed using fresh ginger and East Coast Lemons this Ginger Beer is sweet, tart and packs a ginger kick.
Hard Ginger
Best Ginger beer my Wife and I have ever tasted. Stumbled on it on holidays. Had to order online as soon as we got home.
Love it!!
I'm not a regular drinker but after trying this we are running around all the stores trying to get our hands on it. Why it's not stocked anywhere we have been to on the central coast is beyond me. Best ginger beer and best alcoholic ginger beer hands down.
Bloody Great Ginger Beer
I had the Festiavl strength Hard Ginger Beer at the Lighthouse Festival and really enjoyed but the 5 % is Fantastic !!! Loved It !!!